(一) 辊筒
滚筒是开炼机主要的工作零部件。它是直接参与完成炼胶作业的部分,对开炼机的性能影响也是大的。因此,对辊筒的设计、制造和使用都应十分重视。
1.材料与技术要求
对开炼机辊筒的基本要求是:具有足够的机械强度和刚度,以保证在正常使用时辊筒不损坏;辊筒的工作表面应具有较高的硬度、耐磨性、耐化学腐蚀性和抗剥落性,以免在切胶时为切胶刀所损伤和被某些配合剂所腐蚀;具有合理的几何形状,尽可能消除局部的应力集中;具有良好的导热性能,以便于对胶料的加热和冷却。
辊筒的材料一般采用冷硬铸铁。它的特点是表面层坚硬,内部韧性好,强度大,耐磨耐腐蚀,导热性能好,制造容易,造价低。实验用小规格开炼机的辊筒也有采用中碳合金钢制造的。
2.结构与各部尺寸
由于开炼机的用途不同,辊筒的工作表面形状也不一样。用于塑炼、混炼、热炼、压片的辊筒均为光滑的;用于破胶、洗胶、粉碎的辊筒多为带沟纹的特殊沟形,用于精炼的辊筒为光滑带腰鼓的。
辊筒结构为两种,一种为中空结构,另一种为圆周钻孔结构。
(A) Roller
Roller is the most important working parts of the mill. It is directly involved in the completion of part of the rubber mixing operation, the impact on the performance of the mill is also the largest. Therefore, the roller design, manufacture and use should attach great importance.
1. Materials and technical requirements
The basic requirements for the mill roll are: to have sufficient mechanical strength and rigidity to ensure that the roller is not damaged during normal use; the working surface of the roll should have a high hardness, abrasion resistance, chemical resistance And anti-peeling, so as not to damaged by knife when in the rubber cutting and some agents with corrosion; with a reasonable geometry, as far as possible to eliminate local stress concentration; has good thermal conductivity, in order to facilitate the compound Of the heating and cooling.
Roller materials are generally chilled cast iron. It is characterized by a hard surface layer, the internal toughness, strength, wear-resistant corrosion resistance, good thermal conductivity, easy manufacturing, low cost. Experimental small-scale open mill roller also used in the carbon-alloy steel.
2. Structure and size of each department
As the different use of open mill, the working surface of the roller shape is not the same. For the plastic mixing, mixing, heat refining, compression of the roller are smooth; for breaking rubber, washing rubber, grinding roller groove with a special groove, for refining the roller is Smooth with a drum.
Roller structure is devied into two kinds, one for the hollow structure, and the other for the circumferential drilling structure.
---
(二) 辊筒轴承
开炼机辊筒轴承所承担的负荷很大(例如φ650*2100mm开炼机大负荷达1960KN),且滑动速度低,温度较高。因此,要求轴承耐磨、承载能力强、使用寿命长、制造及安装方便。
辊筒轴承主要采用滑动轴承和滚动轴承两种结构形式。
1.滑动轴承
这是目前开炼机辊筒轴承广泛采用的一种类型。其特点是结构简单、制造方便、成本低。滑动轴承的润滑剂为干黄油或稀机油。滑动轴承的轴承体材料用铸铁或铸钢制造,其抗拉强度不低于200Mpa,一般用HT200铸铁;轴衬用金属(青铜)或非金属(MC尼龙)制造。尼龙轴衬的缺点是导热性能差,热膨胀大。
2.滚动轴承
近年来,在大型开炼机上采用了双列滚子轴承。其特点是使用寿命长,摩擦损失小,节能,安装方便,维护容易,润滑油消耗量与一般滑动轴承相比可减少75%。但造价高,配套困难,使用较少。
(B) Roller bearings
Open roll mill roller bearing load is very large (such as φ650 * 2100mm open mill maximum load of 1960KN), and the sliding speed is low, the temperature is high. Therefore, requiring wear-resistant bearings, bearing capacity, long service life, manufacturing and installation convenience.
Roller bearings are mainly used in sliding bearings and rolling bearing two kinds of structural forms.
1. Sliding bearings
This roller mill roller is widely used type. Which is characterized by simple structure, easy manufacturing, low cost. Sliding bearing lubricants for the dry butter or thin oil. Bearing body material is made of cast iron or cast steel, the tensile strength of not less than 200Mpa, generally with HT200 cast iron; bushing with metal (bronze) or non-metallic (MC nylon) manufacturing. The disadvantage of nylon bushing thermal conductivity is poor, large thermal expansion.
2. Rolling bearings
In recent years, large-scale open mill on the use of double row roller bearings. It is characterized by long service life, little friction loss, energy saving, easy installation, easy maintenance, lubricating oil consumption compared with the general sliding bearing can be reduced by 75%. But the high cost, supporting difficulties, so seldom use it.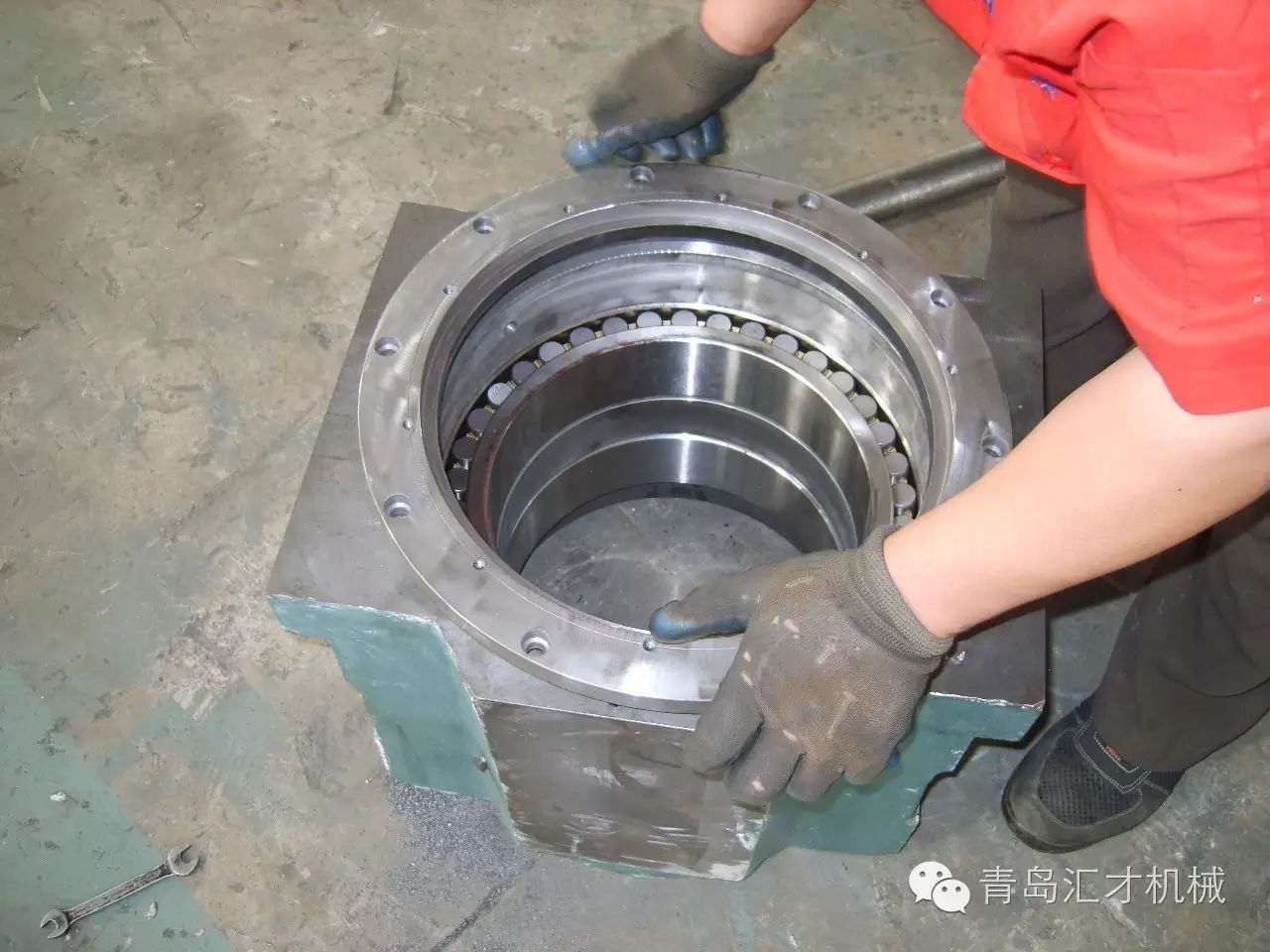 __
__
device
According to the requirements of different mixing process, open mill should always change its roll distance when in work. Therefore, the front roll on both sides of the rack to be equipped with a pair of distance control device, adjustable range is generally 0.1-15mm. Roll distance can not be too large, so as to avoid gear ratio due to poor engagement and damage.
1. Type and structure
Commonly used pitching device according to different power sources, can be divided into manual, electric, hydraulic transmission.
Manual-type device is characterized by a simple structure, reliable work. But the labor intensity, suitable for medium and small size open mill.
Electric adjustable device is characterized by easy operation, reliable work. Drawback is the structure of complex, generally large-scale open mill is generally used.
Hydraulic pressure control device is characterized by a simple device than the electric adjustable, easy to operate, beautiful appearance. The disadvantage is not easy to maintain, sealing requirements, can not automatically return.
Therefore, the current open mill more to manual and electric-based, part of the form of hydraulic transmission.
2. Adjustment screw, nut material
In the design, the safety factor of the nut is n = 2, and the safety factor of the screw is n = 2.3. The safety factor of the nut and the roller are generally considered.
Screws and nuts with mechanical pitch are generally of trapezoidal or rectangular threads, and the number of thread-work buckles shall not be less than 10, and its helix angle a should be less than the friction angle p, ie a <p, so that it can work reliably and reversely Self-locking. Screw material commonly used 45 steel, nut materials commonly used bronze or cast iron.
【乐通lt118资讯中心内容来源于互联网或者为乐通lt118原创,如若侵犯贵网文章之所有权,请联系大家!】